Carnegie Mellon University
Third Year | Spring 2018 | Advanced Construction Studio
Studio Coordinator: Steve Lee
Studio Professor: Lori Fitzgerald
Goal:
The Advanced Construction Studio project focused on working together with the leadership, teachers and students of the Environmental Charter School (ECS) in Pittsburgh to explore concepts for the design of their next generation of middle schools. I was asked to prototype a charter middle school for 6th to 8th graders based on their school values. A fundamental aspect of ECS is to teach ecological literacy. To this end, students and teachers must be provided the opportunity to actively engage in the operation of the building from passive strategies to active strategies to measuring and verification of performance. The goal of the project was also to use previous knowledge of design methods and extend those skills to understand spatial systems, structural systems, enclosure systems, material systems and construction systems for the building.
From the PA Department of Education website, "Charter schools were created to provide opportunities for teachers, parents, students and community members to establish and maintain schools that operate independently from the existing school district structure as a method to accomplish the following: improve student learning; increase learning opportunities for all students; encourage the use of different and innovative teaching methods; create new professional opportunities for teachers; provide parents and students with expanded choices in the types of educational opportunities that are available within the public school system; and be accountable for meeting measurable academic standards."
Site Location: Carrick Neighborhood, near Phillips Park and Carrick High School (2237 Spokane Ave, 2241 Spokane Ave, 2245 Spokane Ave, 2249 Spokane Ave, 2251 Spokane Ave).
PROGRAM:
Multipurpose Assembly/Cafeteria Room: 4,500 sf (minimum double height & maximum triple height space)
Think Lab/Project Resource Center: 3,000 (minimum double height space). The Think Lab is a facility to support specialized science, math, art, design,and making activities, and is staffed by two faculty during school hours.
Studios: Twelve (12) @ 1,250 sf each. The studios must support multiple configurations to accommodate learning from lectures to small groups.
Lobby/Reception/Medical/Principal/Conference Suite: 1,000 sf
Shared Teacher Office: 1,000sf
Kitchen: 1,000sf
Support Spaces: 2,750 sf (custodial, storage, MEP, toilets)
Outdoor Learning Spaces: 4,000 sf (can be located on the ground or on the roof(s))
Outdoor Service Area: 500 sf
OCCUPANCY:
Multipurpose/Assembly Space: Standing Space (Unconcentrated Tables and Chairs) = 325 people
Studios = 25 students x 12 classrooms = 300 students
Think Lab = 25 students (1 class at a time)
Faculty/Staff = 25 people
Total occupancy planned for = 325 people
Location
The site for the Environmental Charter School project is down the street from Carrick High School, across the street from Phillips Park. After speaking to residents of the neighborhood, we found that it was an popular commuting area, and many families have to send their students to middle schools in other neighborhoods. This site is ideal for students of the Carrick neighborhood, as this neighborhood does not have a 6-8 school.
Concept
The building is separated into three parts; the North and South wings, connected by circulation and social spaces. Each wing on each floor holds a different purpose, and the program is spread throughout these areas; for example, every grade is located within its own 'neighborhood' wing of 4 studios. Also, the building is situated so it faces the direct cardinal directions, allowing the school to have direct views of Phillips Park, and to take advantage of the solar benefits. The 4th Floor South Wing is designed as an Outdoor Learning Space, allowing opportunities for students to learn about the passive and active systems of the building, as well as urban garden systems.
Structure
The Environmental Charter School is designed as a steel structure system, with a brick rain facade. Because of the steep slope of the given site, the three parts of the building are connected by ramps, allowing for accessibility access throughout the building.
Studio Design
The floor plan of the building is designed so that each studio has is provided with at least 2 directions of natural light and a small outdoor patio for individual outdoor learning opportunities. The studios' windows are designed to double as a learning space as well as fenestration. The brick rainscreen between two windows works as a screen to allow in various types of light and provide an interior design opportunity for seating or shelving.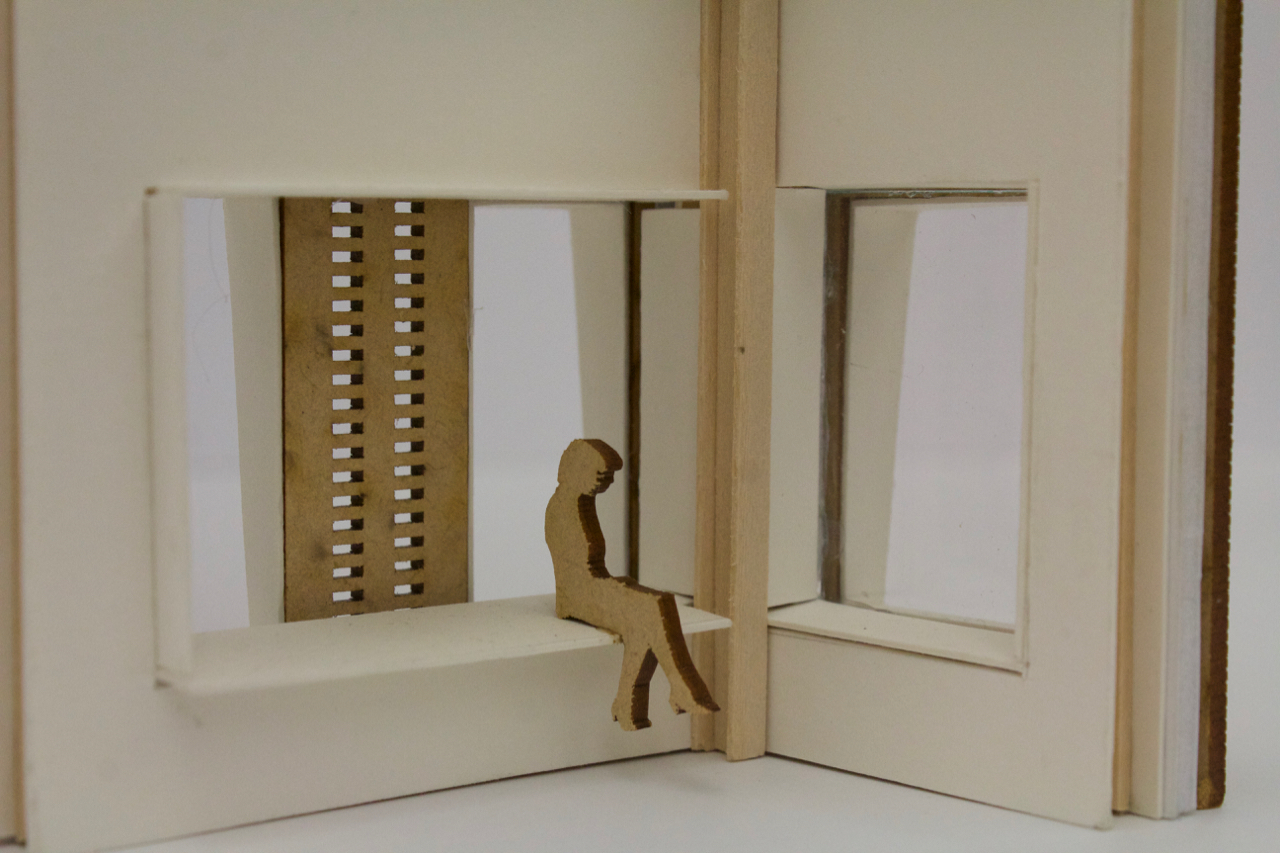 Window Model Interior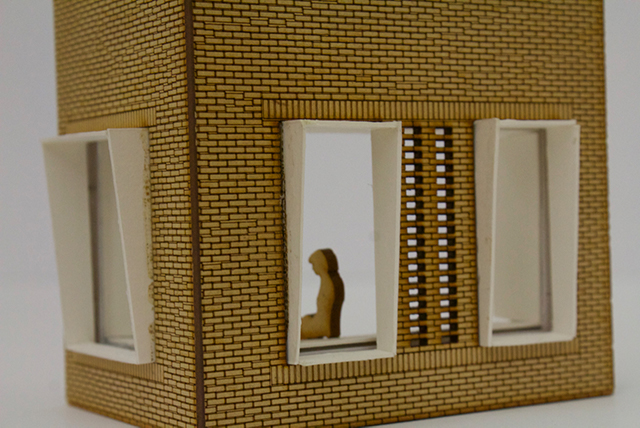 Window Model Exterior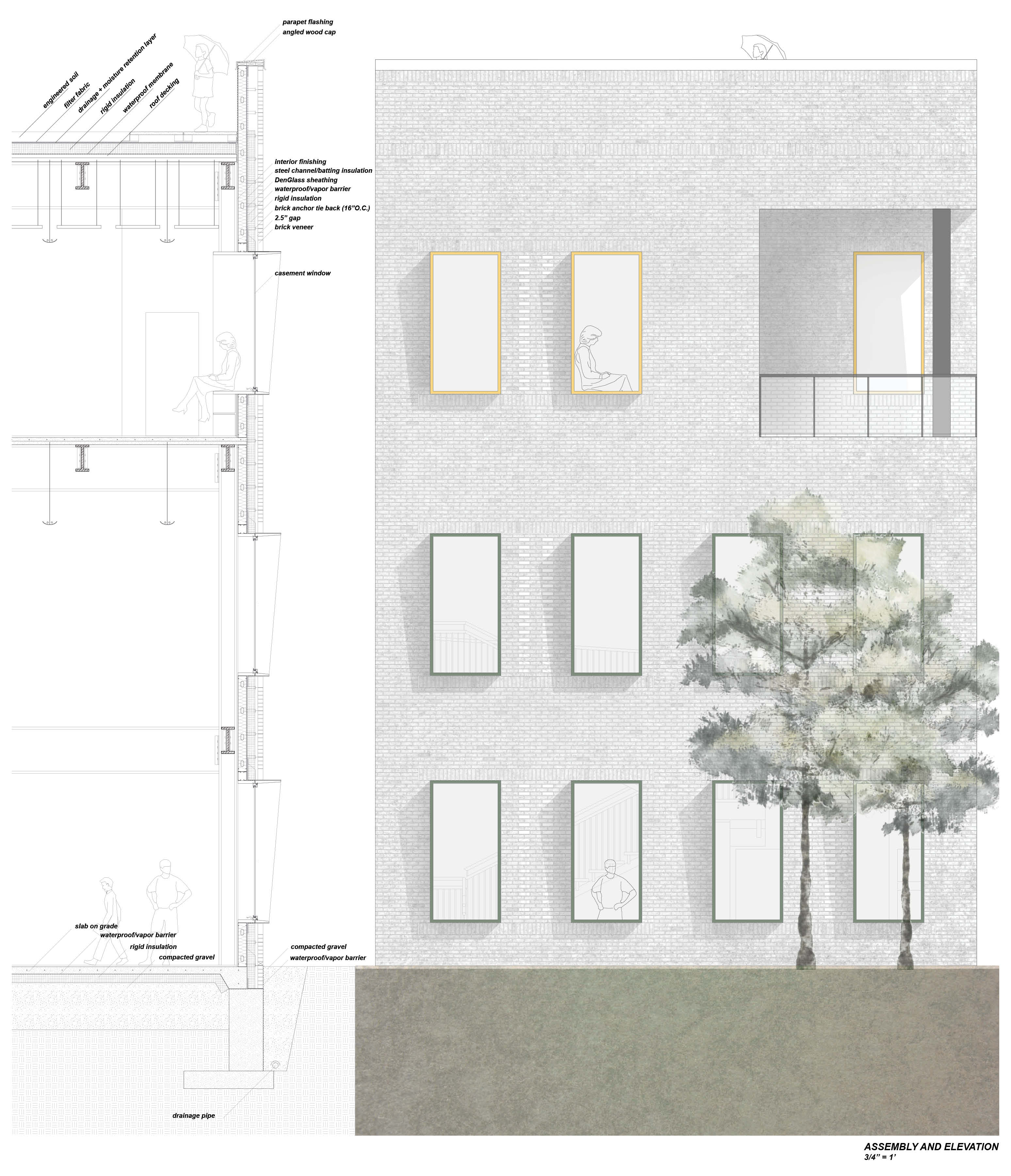 Construction Assembly and Related Elevation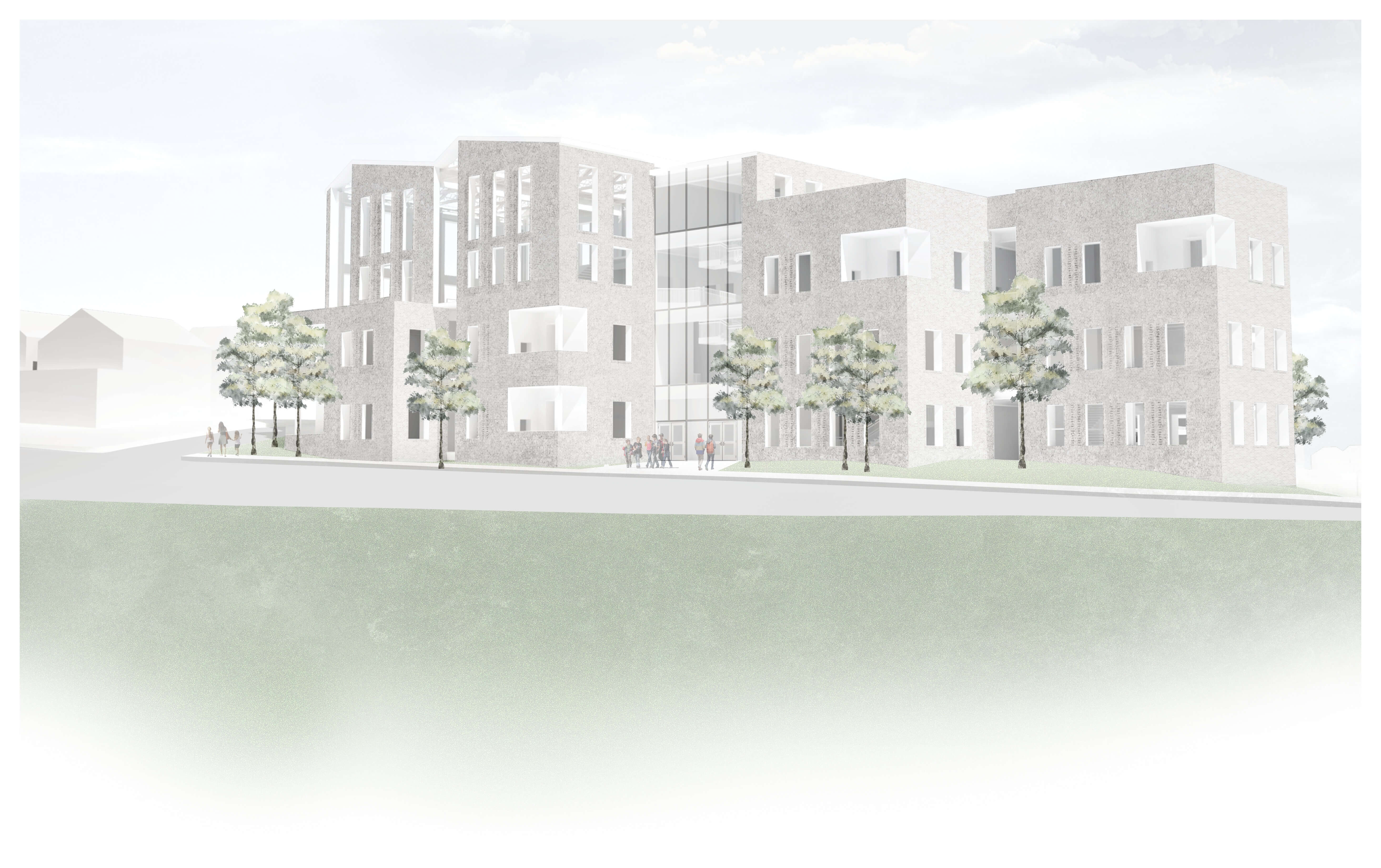 Render from Phillips Park